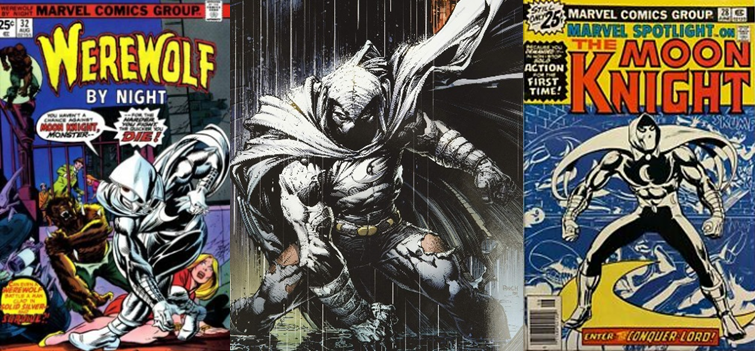 As soon as the Moon Knight trailer dropped, the explosion of 10,000 Buy It Now clicks simultaneously echoed across eBay. Even though we all knew that everyone's favorite semi-psychotic white caped hero was coming to the MCU, seeing that trailer drop jump starts the FOMO and people start buying comics. Sure, some of the smart money picked up Moon Knight key comics a while ago, but are all the deals gone? Can you still get in on some of that Moon Knight action?
Yes!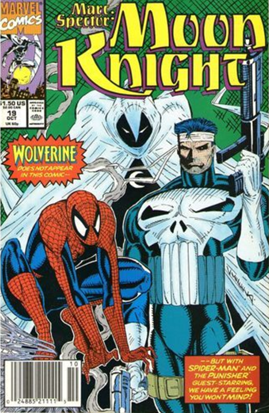 Plenty of smart buys are still out there, you just need to know how to find them. And I've got some unique search tips below that will help you find those deals.
First, it's important to recognize the upside to value hunting on a character like Moon Knight. Something like 95% of collectors know next to nothing about good ole Marc Spector. Hey, the Fist of Konshu is a complicated guy and though he has a fierce fandom, he's never carried the cache of a Spider-Man, Wolverine, or even Punisher. (Though, he does like striking a pose with those folks.)
But this is good news if you want to hunt those Moon Knight keys!

So let's get to that hunt. Here are 10 Moon Knight key comics – 5 first appearances and 5 key crossovers – that you may want to pick up!
Moon Knight Key Comics: 5 First Appearances!
1. Werewolf by Night #32 – Marc Spector/Moon Knight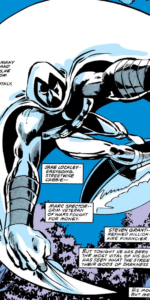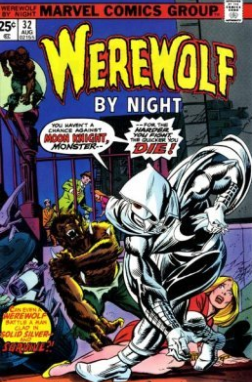 Werewolf by Night #32 is the first appearance of Marc Spector and Moon Knight. The time to get a good deal on this one is long gone. However, with a little luck it's always possible to find it hiding in some lot on eBay.
This might happen because the seller includes the issue in a lot without knowing the value of the comic. Or the seller might know the value but just not put #32 in the description because its listed as a lot with many other comics. When this happens people searching for "Werewolf by Night #32" won't find it – meaning you'll have a lot less competition trying to pick it up.
This may seem like a stretch, but it happens WAY more often than you might think. I've had good luck finding high value comics using this search method.
(If you want more search tips like this, check out my post on hunting comics on eBay!)
It may take some time to sort through all the lots, but if I were searching for Moon Knight's first appearance, I'd hunt for it with the following search:

"Werewolf by Night comic book lot" with the filters Buy It Now and Newly Listed – or, Click Here!
Or, just want to see what it's selling for now? Click here!
2. Marvel Spotlight #28 – First appearance of Marlene Alraune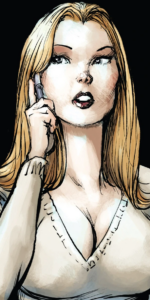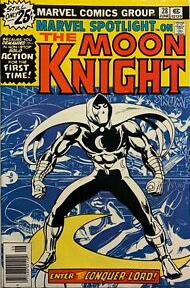 Marvel Spotlight #28 introduces us to Marlene Alraune, the love interest to several of Marc Spector's personalities. This issue is also Moon Knight's first solo story. The cover's unique color combination makes it very cool in the minds of many and instantly recognizable to most. Unfortunately, this also means that few people will be unaware of this issue and price it accordingly. T
This is a hard issue to get a great deal on.
That said, raw high grade copies can still be had for a few hundred dollars. Graded copies above 9.2 are hard to get for less than $500.
What's it selling for now? Click Here!
Search for it hidden among a Marvel Spotlight comic lot? Click Here!


3. Moon Knight #1 – First Appearance of Bushman and Khonshu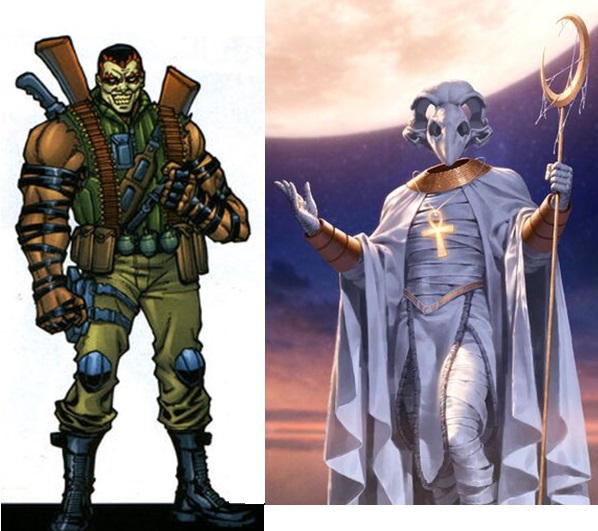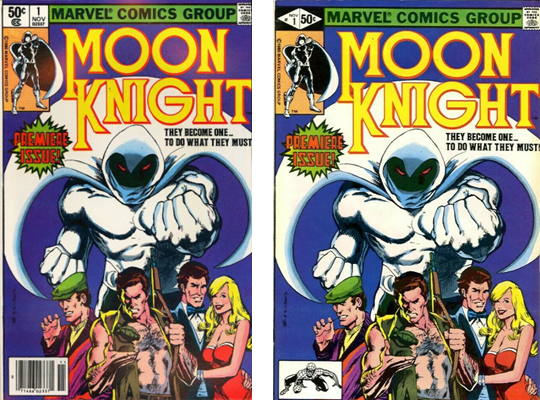 In 1980 Moon Knight got his first ongoing title and this comic is a huge key for the character! This issue is the first appearance for several significant characters. The first appearance of Bushman is significant because he is one of Moon Knight's greatest adversaries. The two tangle with each other repeatedly, but Bushman is also a good character to spec on because of his associations with other characters that are already in the MCU. Most notably he's been known to interact with Baron Zemo and in Madripoor of all places! Check out Black Widow #2 (Vol 7)!
This issue is also the first appearance of Konshu. He is the Egyptian moon god that gives Marc Spector his supernatural power and abilities. In this way Moon Knight has often been a kind of avatar for Konshu – hence the Moon Knight subtitle, "Fist of Konshu"! Over the years Konshu has increasingly become a character in his own right. Look to see him continue to gain notoriety if the new Disney+ show explores his nemesis Ra, and his avatar the Sun King – a character that Ethan Hawke is speculated to be playing.
Hunting Moon Knight #1? Click here!

4. Moon Knight #188 – First Appearance of the Sun King/Patient 86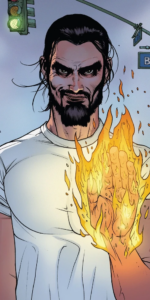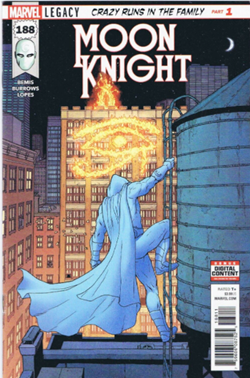 The Moon Knight Disney+ show has generated a TON of speculation. One of the leading theories is that star Ethan Hawke is going to play the villain Sun King. The Sun King is a powerful opponent of Moon Knight since he is the avatar of Konshu's eternal nemesis – the Sun god Ra. The Sun King leads a cult whose fundamental mission is to kill Moon Knight. Ethan Hawke has stated that he based his character on the real life cult leader David Koresh. So this makes it seem like the Sun King may be coming. Also, the character kind of looks like Ethan Hawke, which doesn't hurt the speculation either.
If you go hunting for this comic, be aware that there are a number of variants…

From left to right, there is a lenticular cover (that you can find in Walmart comic packs!), a 1 in 10 incentive variant, a 1 in 25 incentive variant, a trading card variant, and a second printing. The second printing is the most expensive and is also difficult to find in good condition because of the all black cover. If it turns out that Ethan Hawke actually does play the Sun King, it's reasonable to expect that all of these issues to sky rocket.
Hunting for the Sun King on eBay? Click Here!
5. Moon Knight #14 – First Appearance of Scarlet Fasinera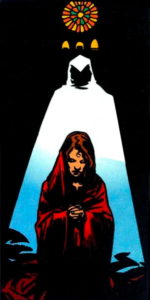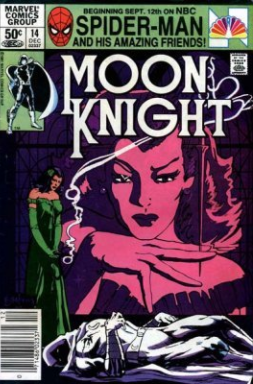 The prices for this comic have come down after skyrocketing in 2019 when rumors broke that she was going to be the show's villain. Comic collectors seem to have short memories, because nothing has emerged suggesting that "Stained Glass Scarlet" won't appear, but this comic has still cooled off.
I think Scarlet Fasinera would be a great secondary bad guy to the Sun King, because she has an emotionally complicated and sympathetic backstory (abused childhood, later forced to kill her criminal son) that seems consistent with the darker themes evoked in the show's trailer. She also has a mystical connection to Marc Spector that allows the two of them to communicate with each other through dreams.
Graded copies of this issue really begin to increase in price at 9.6 and 9.8. CGC 9.4 copies can still be found relatively cheaply. The dark cover makes creases and blemishes pop, which is why the high graded copies are so expensive.
Searching for Scarlet on eBay? Click Here!
Moon Knight Key Comics: 5 Comic Crossovers!
Moon Knight is notorious for being a loner, which is a bit ironic given his multiple personalities. But even though he does much of his fighting on his own, the Fist of Konshu does occasionally run afoul – and run with – other superheroes. When you are thinking about Moon Knight key comics, don't forget about those crossovers – here are 5 you may want to pick up!
1. Moon Knight and Punisher: The Punisher Annual #2
Moon Knight and Punisher are two of the toughest street level fighters in the Marvel universe. Both are known for their grit, somewhat high body count, and a lot of blood on the street. Moon Knight's done some crazy stuff – I mean he basically cut off Bushman's face at one point! Few heroes are capable of that much violence, perhaps only Punisher. So when these two meet, it's a big deal.
Fans are scooping this issue up. Speculators may want to consider doing the same, because if the MCU can introduce Moon Knight, then Punisher isn't far behind. And if that happens, there's no way these two don't meet on the big screen.
Search for it on eBay? Click Here!
2. Moon Knight and Spider-Man: Spectacular Spider-Man #22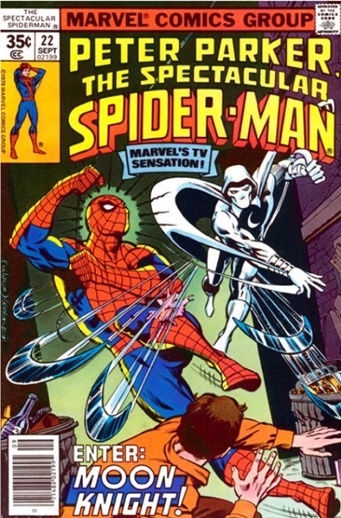 One of the fundamental rules of the MCU seems to be that, eventually, everyone meets Spider-Man. Since Tom Holland is about to sign on for another slew of MCU movies such meetings are bound to continue. Of course, this is basically what happens in the comics too. Everyone likes to see the friendly neighborhood webslinger interact with other costumed personalities – the crazier the better.
In the comics Moon Knight meets Spider-Man for the first time in Spectacular Spider-Man #33. The two initially clash, but ultimately team up. As Moon Knight's character grew increasingly dark, he drifted further from Spider-Man's ethos, but the two would team-up many more times especially in the 1990s. After seeing the Moon Knight Disney+ trailer, I have a hard time imagining the character interact with Tom Holland's go lucky Spider-Man – but I have confidence it will happen and it will be hilarious.
Search for it on eBay? Click Here!
3. Moon Knight and Ghost Rider: Marc Spector: Moon Knight #25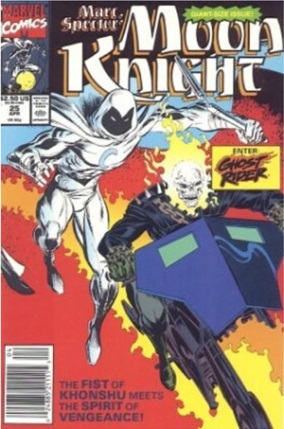 Moon Knight and Ghost Rider both travel in spiritual circles as dark avengers of mystical forces. This makes it inevitable that they will run into each other every once in a while. When they do, it's a crazy ride. One of the coolest team-ups between Moon Knight and Ghost Rider is when they joined forces as part of the Midnight Sons. In fact, many suspect the Moon Knight show as setting up the Midnight Sons as the next MCU superhero team. If true, this means that Ghost Rider may be joining the MCU too – if so, this book is only going to gain attention.
Search for it on eBay? Click Here!
4. Moon Knight and Avengers: Avengers #33 (Vol. 8)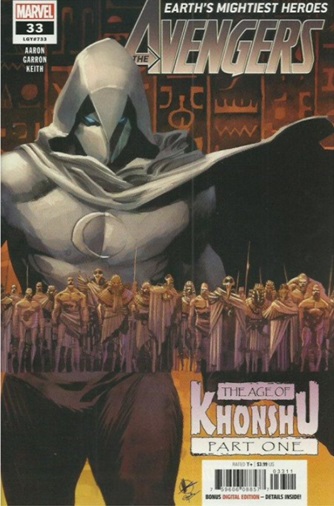 One of the craziest Moon Knight storylines ever is a recent one – The Age of Khonshu that ran through the Avengers arc. In this story, Moon Knight's powers go through the roof as he takes out one hero after another. He defeats Iron Fist, Ghost Rider, Thor, and even Mephisto. Even though this storyline is a recent one, it's hard to find. Since this story came out during Covid, the print runs were low. However, now that Moon Knight has officially entered the MCU, the story is getting more attention and for good reason. The story arc is a great introduction to the Moon Knight character, his background, and his relationships. Not sure it will ever come to the big or even small screen, but as far as Moon Knight stories go – it's a classic.
Search for it on eBay? Click Here!
5. Moon Knight and Daredevil: Moon Knight #13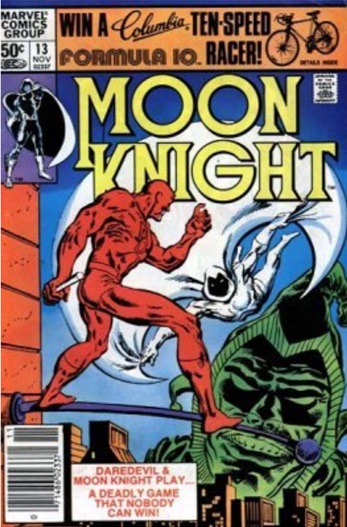 Some see Moon Knight's upcoming show and Charlie Cox's appearance in Spider-Man: No Way Home as more than a coincidence. You see Daredevil and Moon Knight have quite a history and share many character similarities that force their paths to cross many times. Just as the Disney+ show may be laying the groundwork for the Midnight Sons, it may be setting the stage for one of the best Daredevil storylines of all time – Shadowland. When Daredevil goes a little crazy and basically takes over Hell's Kitchen, Moon Knight is one of the heroes that comes to talk some sense into Matt Murdock. While this story may be a little way off before hitting the big screen, there is little doubt that Matt and Marc will have more than a passing relationship in the MCU. I expect Daredevil will make an appearance in Moon Knight and when it does, this comic may get a bump as comic collectors seek out the first official meeting.
Search for it on eBay? Click Here!

If you enjoyed reading this post consider subscribing to the upcoming newsletter!

YOU MAY ALSO LIKE