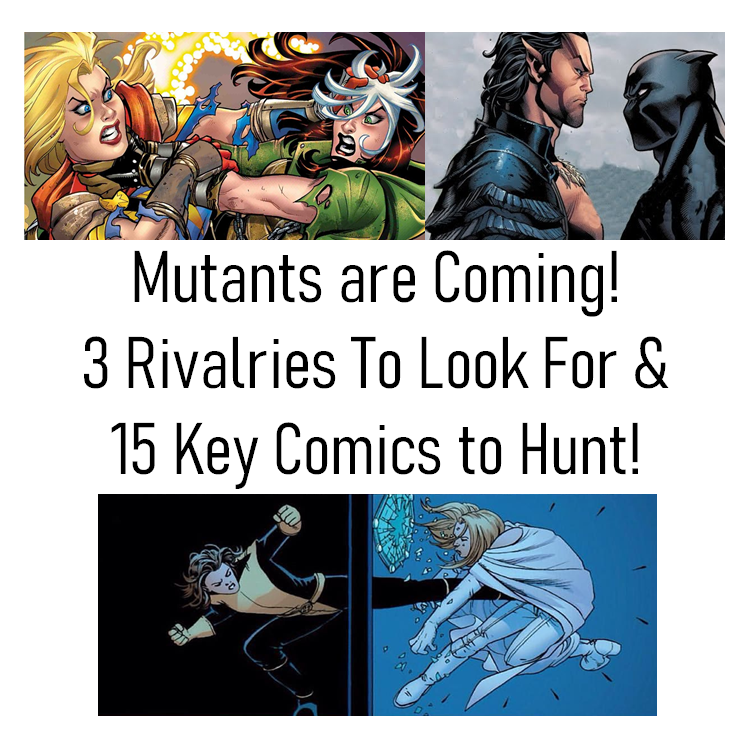 Yes, mutants are coming to the MCU! Which ones? How will the MCU introduce them? Will we finally see the Wolverine/Deadpool meeting we've all been hoping for?
Well, I've got no answer on the last one other than to keep hoping. But about the other two questions – who's coming and how – I've got a couple ideas that suggest some comic speculation may be warranted. My guess is that the Kevin Feige is going to bring in mutants that have a history with pre-existing characters in the MCU. That way the conflict between new and old characters is a way of introducing or creating an origin story.
So since we know mutants are coming to the MCU, here are three rivalries to look for and 15 comics that are getting some of my comic speculation attention…
1. Captain Marvel and Rogue


Avengers Annual #10


First Appearance of Rogue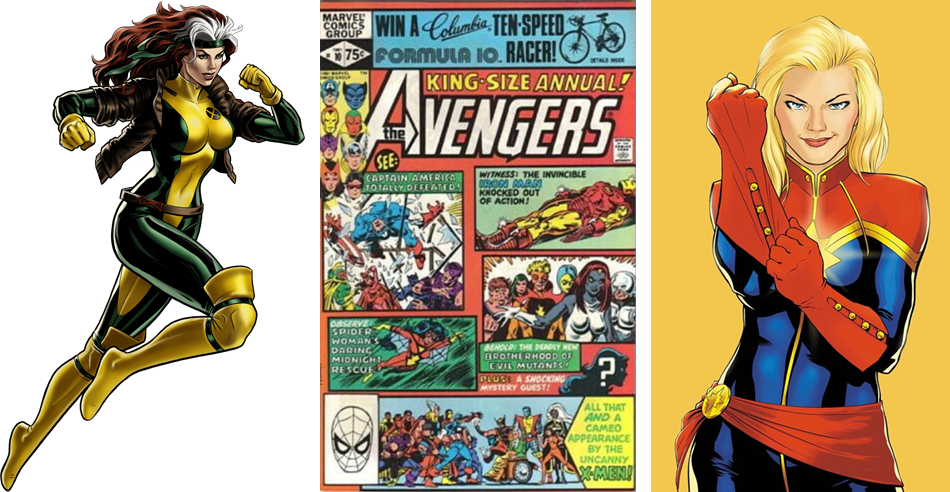 Anna Marie, better known as Rogue, is a prime candidate on everyone's list of mutants that are likely to be joining the MCU. She is one of the most popular X-Men and her on-again off-again romance with Gambit, another X-favorite, is one of Marvel's most celebrated romances. Rogue is one of the more intriguing characters in comics because of complex and nuanced story arch. Not only did she begin her career as an enemy of the Avengers, but she is a longstanding rival of Carol Danvers, A.K.A. Captain Marvel. Anyone trying to guess which mutants are coming to the MCU, should include Rogue near the top of the list!
When the two first met, Rogue attacked Carol and stole many of her powers – as well as her memories! It took a long time for Carol to recover and the grudge between them has continued even after Rogue transitioned to become one of the good guys.
But haven't we already seen Rogue in movies?
Yes, Rogue was already in the X-Men movies put out by Fox. And, sure, Kevin Feige has demonstrated a desire not to retread old stories. But do you remember that version of Rogue? Young, shy, and poorly developed. Anna Paquin played Rogue amazingly, but the character was one dimensional and much less powerful than she is in the comics. There are SO many stories with Rogue that still need to be told…and telling those stories might be enough of a temptation for Feige to put her on the big screen.
Bronze age keys have started to get a lot of attention from collectors and investors. And as the first appearance of one Marvel's most popular characters, Avengers Annual #10 has long been an undervalued comic. Rogue's first appearance has already started climbing, expect prices to skyrocket if and when it's announced that she'll be joining the MCU.
3 Other Key Rogue Comics
Looking for some Rogue comic keys besides the first appearance? I gotcha covered! Here are three comics that are key Rogue comics. These keys are highly desired by collectors and investors for their classic storylines, their amazing covers, or both.
1.
Uncanny X-Men #171

– Rogue joins the X-Men

Uncanny X-Men #171 is a key rogue comic because it marks her complete transformation from baddie to hero. In this issue she joins the X-Men alongside Marvel's other mutant superheroes. This issue also has two other claims to fame. It is the first appearance of Magik's soulsword. Its lettering, "Welcome to the X-Men… Hope you survive the experience!" is a kind of cover homage to Uncanny X-Men #139 – the issue where Kitty Pryde joins the X-Men. The intersection of Rogue, Magik, and Kitty Pryde makes this a classic and highly desirable comic.
2.

Uncanny X-Men #21

– 2019 San Diego Comic Con Variant
Negative space cover variants are increasingly popular with collectors. And few of these covers are more desired than Rogue's fluorescent green negative space virgin cover variant. Not only is this cover visually stunning, but it is extremely scarce – only 3,000 were ever printed! It also has the added benefit of being distributed at San Diego Comic Con, one of the premiere conventions in comicdom. All of this has made this variant of Uncanny X-Men #21 on of Rogue's most highly sought after comics.
3.
Avengers vs. X-Men #3

– J. Scott Campbell Variant

The variant covers of Avengers vs. X-Men #3 is a combo of classic story and amazing art. As soon as the X-Men are introduced into the MCU, the first question on everyone's mind is when are we going to see the Avengers vs. X-Men storyline. You know the epic story has to come. The marquee match-up is one of the most celebrated cross-over events ever. The titanic clash of these two groups, serves as a backdrop for one of comic's most bitter grudge matches: Rogue vs. Captain Marvel. And this feud is depicted on the cover by one of comic's most popular artists J. Scott Campbell. If you do seek this issue out, the variant edition (the one in the middle, in full color) is the most valued.
2. Namor and Black Panther


Defenders #84


First Namor v. Black Panther Fight
Namor is known as Marvel's first mutant and since mutants are coming to the MCU there is good reason to believe that Namor will be among the first on screen. In fact, we've already been given some Easter eggs in Avengers: Endgame that suggest Namor is already causing trouble for Wakanda by causing underwater earthquakes. After all, there is a long history of conflict between Atlantis and Wakanda. Both nations are secret, technologically advanced, and led by fierce warriors who really don't like each other.
So if you can grab a copy of their first appearances – you may want to go ahead and do that – except that's not a realistic option for most people considering how expensive they are. Namor's first appearance is Marvel Comics #1 (1939) and a CGC 9.4 of this issue last sold for $1.26 million. Black Panther's first appearance in Fantastic Four #52 is less expensive, but a CGC 9.6 will still cost about $25,000. Lower grades can be found for less than $1,000.
So these are cool comics but probably not a realistic investment option for most collectors. Fortunately, a lot of people are sleeping on the classic issue where these two rivals battle for the fist time – Defenders #84.
But since Chadwick Boseman died, is there still going to be a Black Panther in the MCU?
The tragic passing of Chad Boseman left a hole in the hearts of many fans who were deeply moved by his portrayal of Black Panther. However, the MCU will definitely be moving forward with another Black Panther character – even though it will not be T'Challah. Who will be the next Black Panther? The smart money is on his sister Shuri. But whoever it is will have some big shoes to fill and the best way of showing the character has what it takes to be the defender of Wakanda is to have them tangle with one of Black Panther's biggest foes – Namor the Submariner.
Just how big of a foe is Namor? Well, not only do they fight like a bazillion times, but Namor actually destroys Wakanda in Avengers vs. X-Men #7. Yes…these two go at it in that storyline too – just another reason why this crossover is one of my favorite spec picks.
Because mutants are coming to the MCU means big rivalries and big fights – the feud between Namor and Black Panther should almost be expected to find its way onto one of the MCU's golden movie screens.
3 Other Key Namor Comics
So are there any good speculation picks besides Defenders #84? You betcha! Here are three Namor keys that stand to do well if and when Namor makes it into the MCU.
This silver age key is MUCH more affordable than Marvel Comics #1 and is a decent runner-up. This comic has all the hallmarks of a good bet, it's only the second solo series for Namor and it has his origin. Add to that the rise of silver age comics as blue chip collectibles and this comic is poised to do well.
Besides being a classic Kirby cover, Strange Tales #107 is the first Namor and Fantastic Four cross-over. As it turns out, Namor doesn't get along so well with Human Torch – their disagreements are another one of the oldest rivalries in comics. Yeah, Namor doesn't get along with very many people.
3.
Marvel Feature #1
Despite his confrontational nature ("Imperious Rex!" – sorry, I had to say it at least once), Namor does occasionally work with other super-hero types. In fact, he's on one of the greatest all time team-ups ever – The Defenders. How awesome would it be to see the arrogance and strength of Namor, Doctor Strange, and the Hulk in a movie?! Cinematic greatness just waiting to be made. In the mean time there's Marvel Feature #1 – the origin and first appearance of the Defenders. A bronze age key.
3. Emma Frost and Kitty Pryde


Uncanny X-Men #129


First Appearance of Emma Frost and Kitty Pryde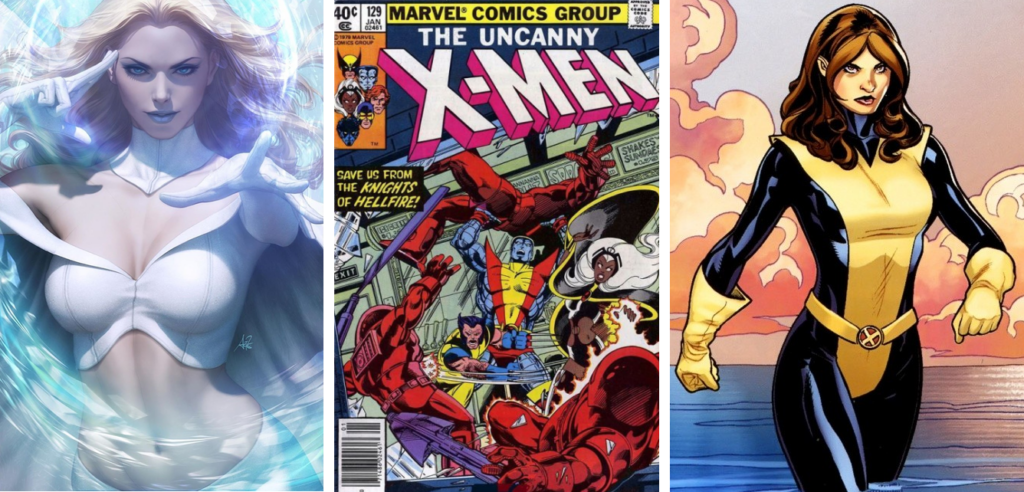 I know, I know, neither Emma Frost or Kitty Pryde are currently in the MCU. However, I still think that there is a good chance that if one comes in the other will too. That's because their relationship is so conflict ridden. They both got their start in the same issue and they are complete opposites of each other – I mean, Emma Frost becomes impenetrable and Kitty Pryde becomes immaterial. Plus, neither character was well developed by Fox. Since Feige is a huge X-Men fan, my guess is he would love to hit the reset button with these two and the multiverse will allow him to do it. When you think about mutants coming to the MCU, this pair is a natural to re-introduce to audiences.
I may be saving the best for last because Uncanny X-Men #129 is one of the most undervalued comics around in my opinion. How often does a single issue have two key character first appearances as well as a team first appearance (Hellfire Club)? Not very often – in fact its pretty rare. Like Rogue, Emma Frost is a former villain, turned heroine. She is also rumored to be joining the MCU – likely to be played by Lady Gaga.
This comic is also the first appearance of Kitty Pryde. And continuing the theme of rivalries, it's safe to say that Emma Frost and Kitty Pryde don't really like each other. I mean, Kitty Pryde once ripped her heart out! Ok, that was a What If? Astonishing X-Men issue, but still, you get the point. The back and forth between these two would be hilarious to watch and since we know mutants are coming to the MCU, I'm hoping this is a conflict we'll get to see on the big screen.
3 Other Key Emma Frost Comics
While Uncanny X-Men #131 is the third appearance of Emma Frost and Kitty Pryde, it also has the distinction of being the first cover appearance of Emma Frost. This is significant because she has some of the most sought after (and revealing) covers of any comic character. And it all started here.
So, did I mention Emma Frost has some scantily clad covers? Well this one by Greg Horn definitely qualifies. In addition to the artwork, this issue attracts some attention for being the first in the 2003 ongoing series. It's also the first appearance of her brother, Christian Frost.
When this issue pops up on eBay it tends to move quickly because people love the Dark Queen cover. There is another Marvel Comics #1000 with a regular White Queen cover by Artgerm that is much easier to find. Wow, just realized that we've gone from Marvel Comics #1 to Marvel Comics #1000. How often does that happen in a single post?
…Now, on to Kitty Pryde…
3 Other Key Kitty Pryde Comics
We almost come full circle with this comic since Rogue's entry to the X-Men (X-Men #171 above) is a cover swipe of this issue where Kitty Pryde is made a member of the team. This comic makes Kitty Pryde an X-Men fixture and even though she changes names half a dozen times (Sprite, Ariel, Shadow Cat, etc.) and runs with different teams every once in a while, her romance with Colossus and friendship with Wolverine forever ties her to the X-Men. And it starts here.
Of all the classic Wolverine/Kitty Pryde covers, this is probably the most well known. Uncanny X-Men #141 introduces Days of Future Past. It is a key X-Men storyline with a host of first appearances that kicks off when Kitty Pryde is sent back in time. Yes, this was already a Fox movie. No, there is almost no chance that the MCU will recreate it. So why is it on this list? If Kitty Pryde is brought into the MCU all her properties will get another look and as a classic cover of one of the most well-received sagas that Marvel has ever created, this one stands ready to do very well.
So, I'm cheating a bit with this pick. While it does have Kitty Pryde on the cover, its speculation value is really based on what's inside the comic. This issue has the first appearance of S.W.O.R.D. which recently appeared in WandaVision and is likely not going away anytime soon. Perhaps just as importantly it's also the first appearance of Abigail Brand who played a key role in the Secret Invasion storyline – a storyline that's definitely coming to the MCU. If you do go hunting for this comic, be aware that there is a rare newsstand variant that occasionally pops up on eBay – it's the one I'm hunting for.
So, do you agree with these picks? Do mutants coming to the MCU effect which keys you're buying?
Let me know what you think!
If you enjoyed reading this post consider subscribing to the newsletter! I'll be sending out 1 email a month recapping new content and additional spec tips and collecting tricks that don't always make it to the blog.
Signing up is easy! Just fill out the form below, then sit back and relax as comic spec goodness hits your inbox!