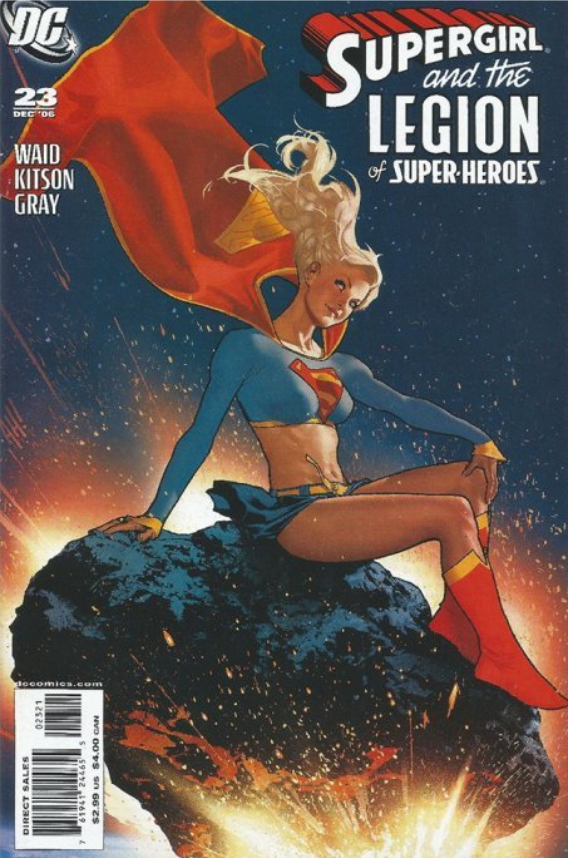 Variant Retail Incentive (1:10) cover by Adam Hughes
Adam Hughes is a comic rock star. His name is going to pop up a lot on the Hot Comic Covers To Invest In list and for good reason. His covers sell. The sell a lot. They sell fast. And they're not cheap.
Part of the reason Adam Hughes covers are so expensive is because he does some of his best work on titles with small print runs. Supergirl and the Legion of Super-Heroes #23 is a great example. It's not like this title was killing it in when it was released in October of 2006. That month Comichron lists this issue as only 39th in number of issues sold – 41, 535.
If only there were that many…wishful thinking. The Adam Hughes variant was a 1:10 retail incentive. This means there is a maximum of approximately 4,153 copies of this issue floating around out there.
That's not a lot.
And the scarcity of issues impacts the price. At the time I write this, there are only 6 graded comics for sale on eBay. These range from a CGC 9.4 selling for $575 to a CGC 9.8 signed by Adam Hughes selling for $1,899.
There's another reason why this comic is so highly desired, besides its scarcity. This cover falls into a particularly popular category of pop art – the pin-up. I won't go into too much art history here, but investors who collect comics for art should probably know something about it. Pin-up art was popularized during the 1940's; think of the nose art on WWII airplanes or Rosie the Riveter. Pin-ups were the original "natural beauty" form of art as opposed to the photoshopped idealized versions that followed.
Comparing Adam Hughes to Rob Liefeld (another modern artist who's not on this list) makes the difference easy to see – who looks more real to you?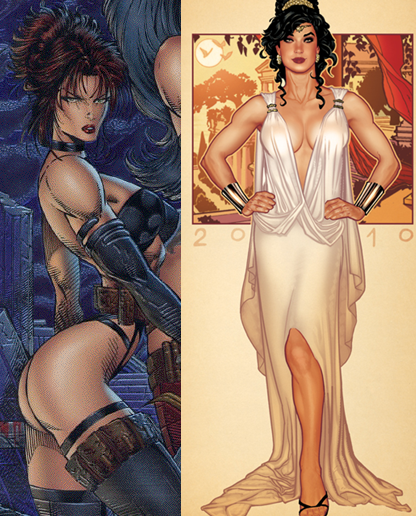 This is not to say that Adam Hughes' rendition of Supergirl isn't idealized, but she is absolutely drawn in the classic pin-up pose. However you feel about the fusion of these forms, the cover is visually stunning. There are a few covers that people will still desire a hundred years from now – and this is number one on my list.
Buy or Sell in 2021? If you have one, hold it – or sell it to me.