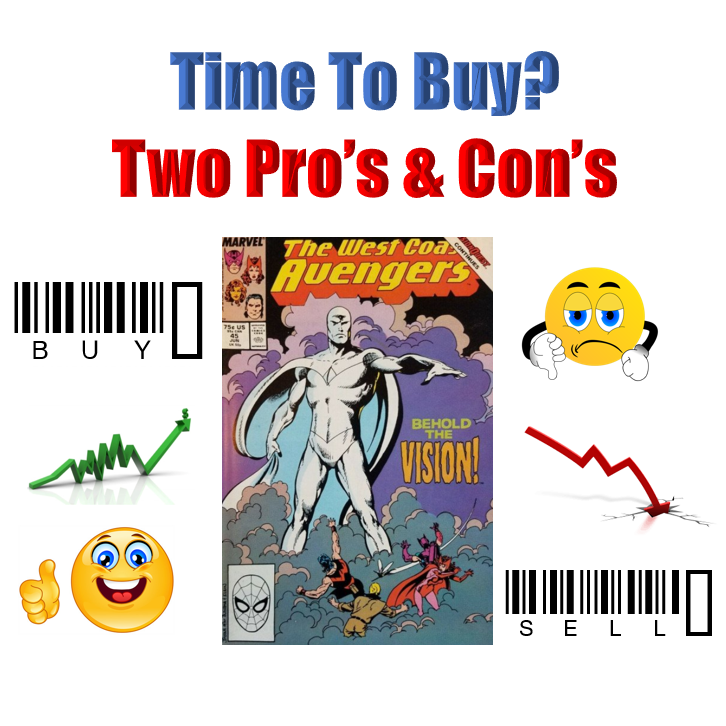 West Coast Avengers #45 is crazy HOT! It is flying off of eBay at prices that are comparable with established solid comic keys.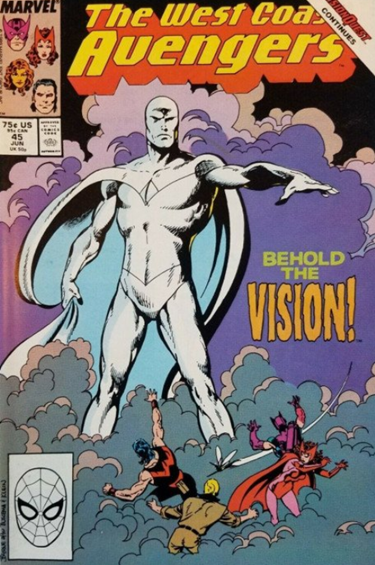 Of course this has everything to do with that WandaVision post-credit scene that shows Vision in a new white suit. The first appearance of the white Vision in Marvel is West Coast Avengers #45. Here are two reasons to buy and two reasons to sell. I also let you know what I'm doing.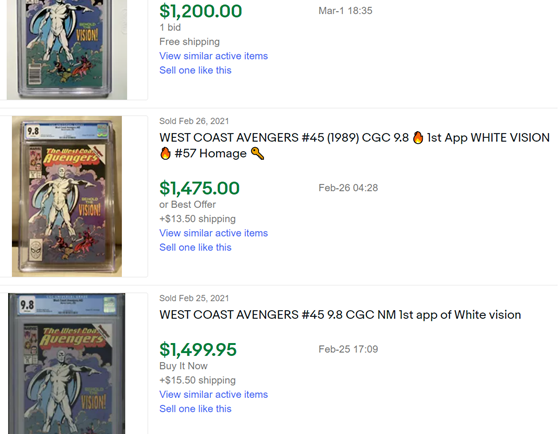 Is it time to BUY or SELL?
Pro's – Quick Buy Now!
WandaVision is incredibly popular! The storytelling is amazing and is bringing in a lot of new fans. I'm not talking about fans new to the MCU, though I'm sure the show is growing that fan base too. I mean Scarlet Witch and Vision fans. Previously, these two had to share screen time with a lot of other heroes. No longer. WandaVision has created new, legit, fans of these two characters. Those fans aren't going away and they are going to be seeking this comic for a long time to come.
White Vision just got introduced and there's a lot of drama with him that's likely still coming. I mean, he hung around for a while in the comics after the Vision Quest story arc in West Coast Avengers. This mean he's not going anywhere anytime soon and the longer he's around, the more time there is for the value of this comic to rise.
Con's – Sell All Day Long!
WandaVision is amazing and the introduction of white Vision is great story telling, but that story is almost over. Even if this new Vision sticks around for a while – and there's no guarantee of that – there's only one episode left. This means that he probably wont appear again until Doctor Strange in the Multiverse of Madness. That's a whole year for people to forget why they were paying so much for this comic! The current price is coming down.
This comic is everywhere. There are so many copies of this issue. MyComicShop.com reports that the letters page contains a statement of ownership: average print run 306,775; average paid circulation 178,125. That's a huge circulation. It's only a matter of time before the supply of this comic is going to overwhelm demand. When this happens, the price is going to plummet.
---
Are you hunting or dumping this comic?
Let me know your thoughts in the comments below!
Full Disclosure: I sold one copy of this comic and am holding one copy.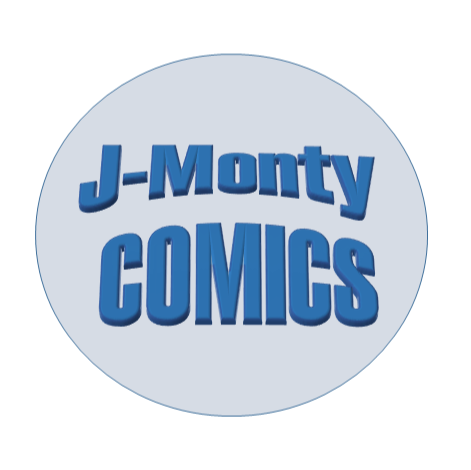 If you enjoyed this post consider subscribing to the upcoming newsletter! Once a month I'll be sending out a newsletter recapping new content and additional spec tips – Happy Collecting!
YOU MAY ALSO LIKE