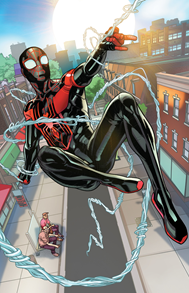 Miles Morales is REALLY hot right now. His first appearance (Ultimate Fallout #4) is flying fast off eBay Buy It Now's and at record setting high prices in auctions. Why is this? It might have something to do with Sony announcing that Miles will be the PS5 Spider-Man. But I think it's more than that. This comic has been on everybody's radar for a long time. Collectors know and love Miles Morales and appreciate his significant contribution to Spider-Man lore. But for whatever reason his first appearance never took off in price even though everyone knew that the comic was under-valued. It's certainly not undervalued any longer. Graded copies of Ultimate Fallout #4 in 9.8 condition command a price tag of well over $1000. If you didn't grab one of these while they were still in a comfortable price range, here are 5 first appearances you can still pick-up at an affordable price.
1. Billie Morales – Miles Morales' Sister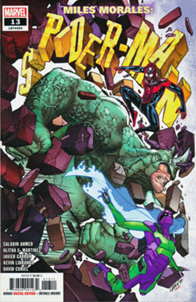 Meet Billie Morales, the baby sister of Miles Morales. She makes her first appearance in Miles Morales: Spider-Man #13. Currently the first printing of this comic is selling between $10-$15. I don't know what Marvel has in store for this character and I suspect it will take a few years to develop, but odds are good that if Billie takes after Miles, this comic won't always be so cheap.
2. The "Evil" Miles Morales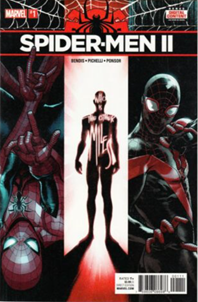 Since Miles Morales began in Marvel's "Ultimate Universe" it was only a matter of time before the question of who was Miles Morales in Marvel's main 616 Universe. Sound confusing? Don't feel bad, it is. If you'd like a more complete background of what this is all about, read this short article. The gist of it is that the Spider-Men, Peter Parker and Miles Morales, are from different universes. And, it turns out, the Miles Morales that exists in Peter's universe is not a good guy and Spider-Men II #1 is his first appearance. Why might this book go up in value? Well, anytime there is an alternate or clone of a hero (almost like a sinister Ben Reilly?) the potential exists. When the evil Miles Morales returns, and he will, this book will likely spike in value. It is currently selling between $20-$30 depending on the variant.
3. "The Prowler" – Miles Morales' Uncle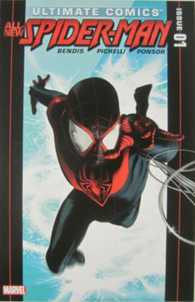 This comic is notable for several reasons. First, it is the second appearance of Miles Morales. So if the price tag of the first appearance is out of reach, this second one represents a much more affordable investment. It's also hard to see how this comic could ever not be worth something because it is also the first time Miles Morales is headlining a Spider-Man title. Finally this issue is also the first appearance of the Prowler, Miles' uncle and very important character in the Spider-Verse. My rule of thumb is that if a character is important in the main universe, then its probably good to pay attention to the Ultimate Universe version. And while Aaron Davis (the Prowler) may not be Uncle Ben, I'm definitely still going to pay attention to this character. There are a lot of reasons to keep an eye out for this book. This book is currently selling between $50-$75 depending on the variant.
4. First Peter Parker v. Miles Morales Battle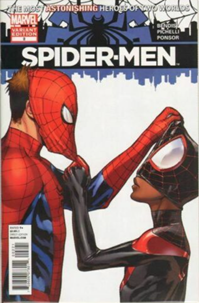 Battles between heroes have long been a staple of comic book keys. Match-ups like Hulk v. Thing and Thor v. Silver Surfer are two well known classics that collectors still pay high prices. Spider-Men 2 hasn't been around long enough to obtain "classic" standing yet, but give it some time. Peter Parker will always be a comic book heavy hitter and Miles' well earned and sustained surge in popularity suggests he's not going anywhere anytime soon. Tradition and legacy suggest that the first battle between these two heroes will be increasingly sought after. The issue pictured here is the 1:100 variant which is hard to find and has spiked to over $100 recently. The standard cover can still be found for about $10.
5. First Kiss Between Miles Morales and Gwen Stacey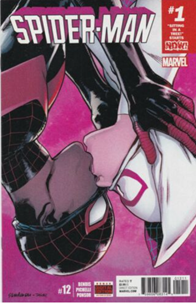 Doesn't matter what plane of the multiverse you're in, there's always chemistry between Spider-Man and Gwen Stacy. Combine that chemistry with the classic upside-down Spider-kiss and collectors are really betting on this book. Like everything connected to Miles Morales, prices for this book have spiked and I think some of this must be driven by an expectation that we are going to see this play out, somehow, some way, in the MCU – though probably not for years down the road. In the meantime, if you want to pick up this book, you can expect to pay about $20 for it right now on eBay.
If you enjoyed reading this post consider subscribing to the upcoming newsletter! Beginning in January I'll be sending out 1 to 2 emails a month recapping new content and additional spec tips and collecting tricks that don't always make it to the blog. Happy Collecting!
In the mean time…you may want to give these a look: